ACLU Sues Georgia City Over Sign Ban; City Reverses Decision
SAVANNAH, Ga. (AP) — The American Civil Liberties Union says it's suing the city of Savannah over plans to ban signs in an area of Savannah being secured for Vice President Mike Pence's visit to the city's St. Patrick's Day parade.
The announcement Friday prompted an immediate reversal from Savannah city officials. City spokeswoman Michelle Gavin told The Associated Press she misspoke when she said earlier in the week that signs would be prohibited in a secure zone during Pence's visit Saturday. Gavin says the city is allowing signs with some possible restrictions.
Sean Young is the ACLU's Georgia legal director. Young says the ACLU is seeking a judge's order blocking the sign prohibition because it violates free speech rights.
Parade organizers expect about 500,000 people to celebrate St. Patrick's Day in Savannah.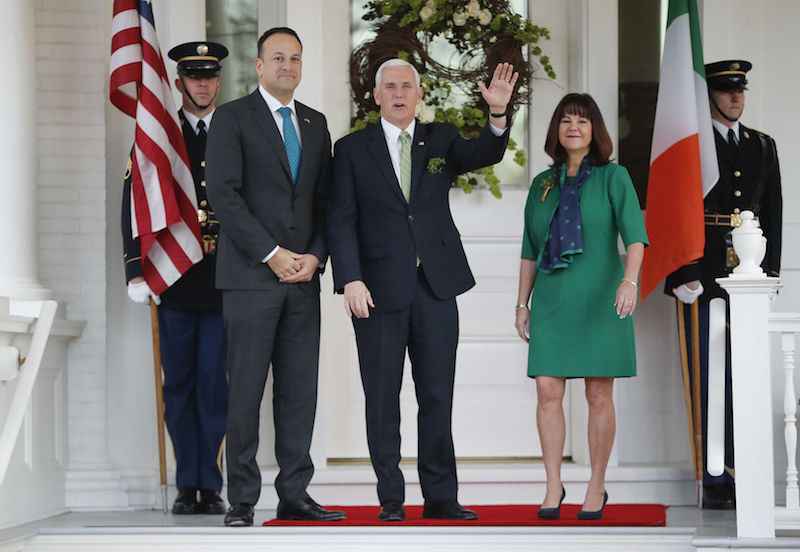 Vice President Mike Pence, center, and his wife wife Karen Pence, right, welcome Prime Minister Leo Varadkar of Ireland, left, to the U.S. Naval Observatory in Washington, Friday, March 16, 2018. (AP Photo/Pablo Martinez Monsivais) Pablo Martinez Monsivais