Torpy at Large: All in All, You're Just Another Brick in the GeoFence
More than 100,000 times a day, Brookhaven's electronic Eyes in the Sky shoot license plates on vehicles rolling through the city.
Images from the 44 cameras are instantly examined and police are told of any hits, anything from serious crimes such as stolen cars or wanted criminals to low-level stuff such as lapsed insurance or expired tags.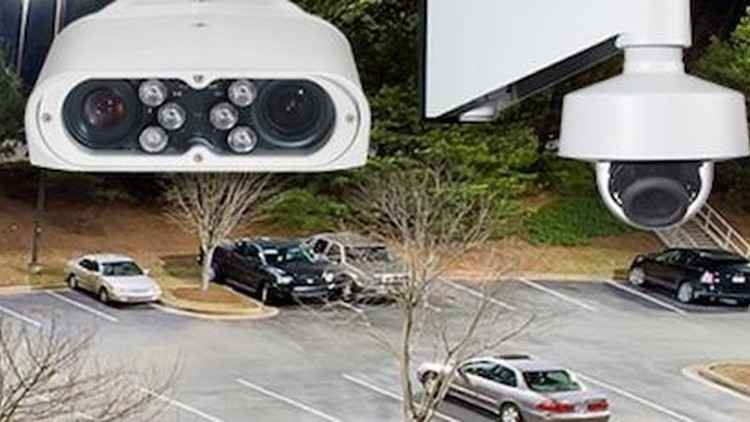 Brookhaven's eye in the sky — 44 cameras watching who goes in and out of the city.
It's called "GeoFencing," building a virtual fence around an area so all who enter or exit can be identified.
And then — and here's the scary part — that data is stored.
This isn't new. Cops have used license-plate readers for years. The difference here is the pervasiveness of such cameras across the 12-square-mile city and the fact that Georgia Power runs the program.
Last year, a new Georgia Power org contacted Brookhaven with an offer: We have the infrastructure — poles, land rights, electricity and even cameras — and we'll help you see who's coming and going.
A power company exec last month told The Atlanta Journal-Constitution: "Georgia Power is focused on offering products and services that meet the needs of our customers."
This shows how clueless I am. I thought I just needed my lights to shine and my AC to run. I didn't know I needed the electric company to spy on me.
This does provide a new revenue stream. And seeing that Georgia Power is losing billions on its new nuclear plant, well, who am I to begrudge them scratching out a few extra bucks?
Being concerned about the whole Big Brother thing, I asked Brookhaven for all instances that those cameras caught my minivan trying to sneak through the city. The data shows the time and place of each vehicle, complete with a photo.
Police Maj. Brandon Gurley told me he doesn't have the data. He said a third party called Vigilant Solutions controls it. Police are made aware only when there is a "hit. " Then they run a check of the vehicle through the Georgia Crime Information Center. Only those instances become public record, he said.
So far, 12 million licenses have been read in Brookhaven this year. "Approximately 2,100 were for the more serious alerts that we target (i.e. stolen tag, stolen vehicle, wanted persons, missing persons, etc.)," the major told me.
There were probably 70,000 "hits," Gurley said, but those were for little stuff that police have no time for. Unless, I suppose, they want to.
"We are embracing technology in our efforts to keep crime down," he added. "We want to send a message to criminals: If you come into Brookhaven, we have tools in place to help catch you."
Gurley said the program was attractive because it would have been cost-prohibitive for the city to set this up itself. He said officers cannot access the database without a "law enforcement purpose."
"I understand the concerns," he said. "I empathize. But I see when and how this is used."
It's an old axiom: Trust us. We're the government.
Now, Maj. Gurley seems like a straight-up guy, and I'm sure he means what he says.
However.
Remember Equifax? The Atlanta-based credit reporting agency got hacked last year and financial data from 145 million consumers was potentially left exposed for scamsters.
But this isn't necessarily about fraud. It's about the basic right to be left alone.
"If you're troubled by people knowing everywhere you go, then this should scare you," said Sean Young, ACLU Georgia's legal director. "They're saying, 'Trust Big Brother. Big Brother is too busy to track your every move.' I just don't buy it."
There's good reason to be skeptical.
Vigilant Solutions, which maintains the data created by the Brookhaven cameras, is "shopping their Big Brother services all over the country," Young said.
In 2016, Nextgov, a website that tracks technology and government, wrote: "To install a GPS tracking device on your car, your local police department must present a judge with a rationale that meets a Fourth Amendment test and obtain a warrant. But if it wants to query a database to see years of data on where your car was photographed at specific times, it doesn't need a warrant — just a willingness to send some of your tax dollars to Vigilant Solutions."
A Vigilant executive told The Washington Post that its approach "basically replaces an old analog function — your eyeballs. It's the same thing as a guy holding his head out the window, looking down the block, and writing license-plate numbers down and comparing them against a list."
It's the difference, I suppose, between Officer Friendly and RoboCop.
I called Vigilant and emailed several questions but didn't hear back.
A 2015 press release from Vigilant bragged that law enforcement will have access to more than 3 billion historical license plate scans from the company, with 100,000 new ones coming every month. That means it would be 6 billion plus, if they haven't erased any since.
The company's website touts its "License Plate Recognition. Data Sharing. Facial Recognition."
Oh yeah, the last of those three technologies means cameras can shoot you walking down the street and determine who you are by the contours of your face.
Yikes.
That's what state Rep. John Pezold, R-Columbus, thinks, too.
"This scares the hell out of me," he said. "It hearkens back to 'Minority Report.'"
Pezold is referring to the Tom Cruise movie in which "pre-cogs" predict crimes before they are committed.
It's not outlandish. There's the emerging field of "predictive policing," which the National Institute of Justice says is "harness(ing) the power of information, geospatial technologies and evidence-based intervention models to reduce crime."
Worried the government might create a storehouse of where we go, Pezold pushed a bill to limit holding such info for 30 days. After lots of pushback from police and other security agencies, Pezold relented and passed a bill that such information must be erased in 30 months.
A small victory in the GeoFencing world.
Caption for Brookhaven police car photo:
Last year, Brookhaven signed a deal with Georgia Power to have the company install 44 license plate readers throughout the city. (AJC file photo)